Diocesan Emblem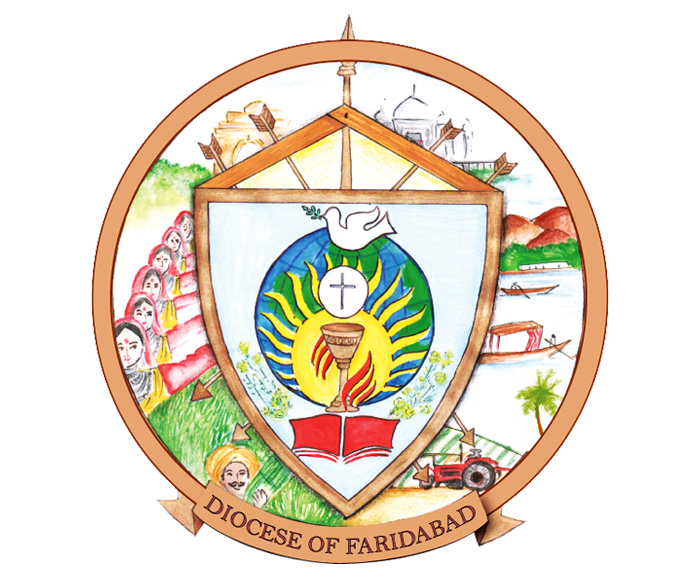 The Emblem contains symbols and indicators of the multifaceted cultural identity for each of State where the Diocese is present (Delhi NCR , Punjab ,Haryana, Himachal Pradesh, Jammu and Kashmir as well as the civil districts of Gautham Budhnagar and Ghaziabad of Uttar Pradesh). In the backdrop for all these States with India Gate for Delhi, the typical folk dance of Himachal Pradesh ,the farmer for Haryana and the tractor and the field for Punjab. The e coconut tree represents Kerala; the mountain and the lake for Jammu and Kashmir and Taj Mahal for Uttar Pradesh. And all of them merging together to show that the states even though being different in culture, stand united as a diocese.
St. Thomas and his efforts to construct a heavenly rather than an earthly palace for the ruler is symbolized by the builder square. The arrows and the lance recall his martyrdom.
The mustard flowers and the sun show the essence of Faridabad where the diocesan Cathedral church is situated.
The globe and the dove represent the migration of Syro-Malabar church. The chalice, bread and the bible are symbols of Christian spirituality and foundation of the community of faithful.
Note: The Diocesan Emblem was decided through a Diocesan level design competition. The selected emblem was designed by Ms. Kavya Jose from the Dilsad Garden parish.