Episcopal Motto and Emblem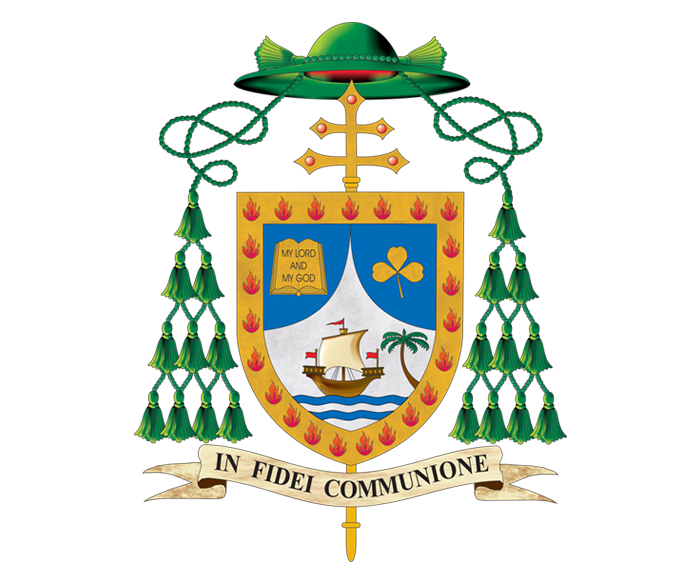 Episcopal Motto and Emblem – In FideiCommunione
The Emblem is carved with decorative symbols in a meaningful design. According to rules of heraldry, two horizontal beams on the Cross indicate an Archbishop. The five round red dots on the edges of the Cross signify the five Holy Wounds of Our Lord. The border of the shield on which the Cross is fixed bears 23 flames which correspond to the 23 Churches of the Catholic Communion, including the Latin and the Oriental Churches. The ship pictured below represents the entire Church, sometimes called the "Barque of Peter", on voyage through the sea which is the world; the ship signifies also the sailing vessel of the Apostle St. Thomas. The Coconut Tree represents "God's own country", Kerala.
The phrase on the Bible, "My Lord and My God", is Saint Thomas' confession of faith in the Risen Lord. The three-leafed shamrock is the emblem of St. Patrick, who used the symbol to teach the doctrine of Trinity, St. Patrick being the patron of the parish (Hohenstadt) to which I have been associated for most of my priestly life. Following the tradition for ecclesiastical coats of arms, the colour of the decorative tassels varies: green for Bishops and Archbishops but red for Cardinals. A similar custom dictates the number of rows of tassels: three for Bishops, four for Archbishops and five for Cardinals.
The Episcopal Motto is "In the Communion of Faith", underling the expectation of Jesus Christ, the Head of the Church, concerning the unity among the Churches under the guidance of the Pope, the Successor of Peter, and the collective unified witness of the Churches to the whole world.