MATRIMONIAL
kristurajamatrimony.com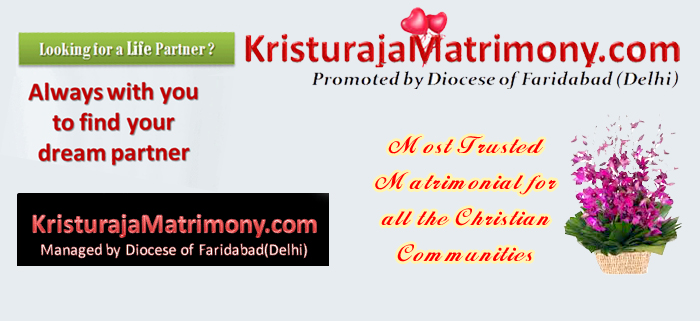 Dear Brothers and Sisters,

'KRISTURAJA MATRIMONY' is another new venture of the Diocese of Faridabad. The pastoral care of the migrant community includes also the help to find out suitable mates for the youth of the migrant community. 'Kristuraja Matrimony' is meant mainly to take care of the marriage needs of all Catholics and especially of the Syro-Malabar Youth spread across the Faridabad Diocesan areas of Delhi and the other six Northern India States.
In the changed circumstances, where the migrant community lives, there is every likelihood that the social customs and family traditions we so lovingly brought with us from our great grandparents and parents in Kerala, might get lost. There is a new trend for the marriages outside the above social customs, religion and family set up. The tendency of inter-ritual and inter-religious marriage is increasingly growing day by day. As a solution to this ever-growing phenomena we are coming up with this 'Kristuraja Matrimony'. With this, we hope to improve this situation to a certain extent
The Syro-Malabar Church is based on the deep faith and trust in God in the family and its good family ties are transmitted from generations to generations. The 'Kristuraja Matrimony' is aimed to give our children a good family with deep faith in God. We expect that the parents will encourage their children to become members of this Matrimony. This will help to a great extend all the Syro-Malabar and other Catholic Youths outside India and especially the Syro-Malabar Catholic migrants in Northern India. We wish that this modern and user-friendly system of 'Kristuraja Matrimony' will be helpful to all youths to find out their suitable mates.
May God Almighty Bless you all.
Archbishop Kuriakose Bharanikulangara
Bishop of Faridabad Diocese